Official Flud Blog
Apr 09
Flud receives "Internet's Highest Honor" at the Webby Awards
Flud received not one, but two Official Honoree awards at the 17th Annual Webby Awards. Nominations include "Best Practices" for usability standards on our brand new web application and "Best Web Service & Application" again for our web application.
Other official honorees include Google, Forbes, and BBC among others. Companies that set out to build great products don't do them for the awards, but it's always nice to get recognized by organizations like the Webby Awards that spend months wading through thousands of products to find the cream of the crop. 
Congratulations to the Flud team and our partners over at BASIC for turning out a stunning product in such a short time. 
Have you had a chance to use Flud's web application yet? Give it a go!
Happy Fluding :)
Mar 14
Flud introduces "opinions" on it's web app! (Exclusive to the web app)
Today, we are slowly rolling out our most asked for feature, commenting. We are calling it "Opinions" because that's exactly what we want all Fluders to share when they read an intriguing story. 
Fluders, if you log into Flud's web app NOW you will, for the first time, be able to comment on articles! Make sure you are on a laptop or desktop when you sign into the web app.

This is exclusive for the web app for now. You will notice that it is designed for quick, lightweight commenting. We hope you love this young new feautre. Enjoy!

Sign in here www.flud.it
Feb 02
The email Flud's CEO sent to the Flud team before kicking off Flud's web app development
All product launches at Flud start off with a pre-meeting email from Bobby, our CEO, describing what we're all trying to build. It's a great way to get the entire team on the same page before the product kick-off meeting. Our recent web app launch started with the email below:
—————

What we are trying to accomplish

We live in the age of context, of connectivity and of sharing. The enterprise has seen little innovation in these areas especially pertaining to news and intelligence. Professionals like you and me are relegated to email and portals for sharing information. Emails are great for other things, but not for consumption, archiving, or centralizing knowledge and making it searchable for everyone in the company.

Flud is an answer to this problem. We are riding major trends for enterprise intelligence, among them are: social, mobile, influence-driven, data-dependent, content-enriched platform. We want professionals to be informed and enable them to gain deep insights into industries and clients that matter to them. Insights that make them smarter, make them more influential in their company and ultimately helps them advance their careers. 

What we're building

The most critical thing to understand is we are taking the mobile app and the web dashboard and mashing them into one web application. We need to take the entire mobile app experience and make it web-friendly. Make it look and work like it is part of the app family. We need to find intelligent ways to integrate our data into the portal to enhance the user experience. For the most part I think the controls and main data modules of the dashboard will live in its own area in the web app, but there are things in the dashboard that any user (not just admins) can get value from while reading stories. Ex: Showing influential users in the company, or showing top stories/top feeds being consumed in their company. 

The web app needs to feel like the company owns it (without giving the company controls over the color and look/feel). Which means we need to have their company name somewhere up there so the user knows its their company's flagship news product. 

The main things users will do right away on this web app are:

1) Log in with their company credentials and create a profile

2) View stories based on what people in their team are reading and sharing

3) Use the bookmarklet to flud stories from the web

4) Discover new sources of news based on what they need more information on

5) Control their profile settings

6) Comment on stories

7) Create new groups on the fly and add users to those groups to share content with each other

8) Compose stories for their coworkers using our authoring tool 

9) Send push notifications to their team with important stories

10) Create a reading list of stories they want to read later

Timeline

The web app is a critical leg in making us cross platform compliant in many companies who don't yet rely on mobile devices. We need to launch the web app no later than January 15, 2013. This means we need to rapid prototype, rapid design and rapid build. Two months is a short timeline to launch the web app, but keep in mind that Flud successfully pivoted, redesigned, rebuilt and relaunched all its product offerings within a short 3 months… this is perfectly possible if we all divide and conquer together.

What we're up against

Our product will initially be misunderstood (as all ground breaking products are) and people will think we are trying to build against Yammer, Basecamp, Chatter and other social intranets. We aren't. We are building against Microsoft Sharepoint Portal, IBM Websphere, Oracle and other incumbents that make billlions of dollars on legacy software that professionals hate to use. We can and will disrupt them. This web app puts us head-on against these incumbents. 

Web apps to consider looking at in our space:

Pocket

Prismatic

USA Today

Other good interfaces:

Spotify

Rdio

dribble

tweetdeck on the web

trulia

Let's come together again and build something amazing for our users. They deserve it and we're the right team to do it! I look forward to our meeting in the next few hours. 

All my best,

Bobby

—————-
Hope you enjoyed the inside look at Flud and make sure you give the web app a run! It's beautiful and fun, or so our users tell us!
Happy Fluding :)
Jan 24
Behind the Scenes: Building Flud's new web app
In October of 2012 we kicked off a full revamp of Flud's web application. Aside from commenting, Flud's web app has been our most requested product by our users and we didn't take this project lightly. 
For the past few months we've been hard at work at tailoring, what we think, is the best possible social news discovery experience on the web. You've come to love all the functionality in Flud on your mobile device, so we've made sure to keep and enhance the mobile feature-set on the web. 
We worked closely with our partners at BASIC. The team at BASIC is one of the hidden jewels in the design world. They've worked with us on our product launch videos in the past, as well as helping our company rebrand in 2012. Once again, they put their best foot forward and worked with us on making sure we could launch our beautiful new web app.
This project was a very tightly integrated process with both Flud and BASIC's teams working on-site at each other's offices 100% of the time. We set a very tight timeline to get the project done in under 3 months so that we could launch in January to start getting early feedback from our users. We hit our date, and the project is officially rolling out to all our users today. 
Starting today, you can use Flud to not only read and discover personal news on the web, we've made it really easy for anyone to add their team at work to join and discover industry-related news with each other in a private area on the web app. We have over 1000 companies using this feature already and these users absolutely love it!
In a majority of cases we are seeing over 90% retention of business teams finding and sharing content on Flud as opposed to copying and pasting a link in an email and hitting "reply all." Private RSS feeds for businesses is a brand new concept and we would love for you to give it a shot in your business.
You can start by going to the web app and logging in with your Flud credentials. 
We hope you love what we've built for you. Please give us feedback when you use the application, we want to present your ideas to our team here at Flud and take this application to the next level. 
Thank you and happy Fluding!
Bobby Ghoshal
CEO, Flud
Jan 23
Flud News rolls out a brand new web application!
For the past couple of months if you were a fly on Flud's wall you would have seen us hard at work on a brand new web app for all of our users. We've designed, thrown away, redesigned, and reworked the entire Flud web experience. I've got to say, we're pretty damn proud of what we've rolled out today. 
We haven't launched publicly with a big announcement yet, but if you are a Flud user and have been wanting to read news on the web then you've got to come test this web app with us. Your early feedback will help us make this much better. 
Make sure you are on your desktop or laptop browser and go to: https://enterprise.flud.it
Log in with your Flud credentials and voila! Leave the web app open in a tab while you get work done online and we will automagically curate new stories for you so that your news stream remains fresh. 
You'll notice that we have made sure to include all the functionality that you currently enjoy on your Flud mobile application, on the web as well. If you haven't yet brought your team at work on board, try out the "Add My Company" option. Its a breeze to set up and your team will love privately sharing content with each other.
Please send us your feedback on the web app to bobby(at)flud(dot)it or tweet us @fludapp. 
Thank you and we hope you love what we've built for you!
All my best,
Bobby Ghoshal
CEO, Flud
Dec 05
Flud listed in EContent's "Top 100 Companies" along with Google, Apple, Hulu and Netflix
We're really happy to be listed in EContent Magazine's 2012 "Top 100 Companies" in the Digital Content Industry. Among others listed are, Google, Apple, Netflix, Hulu, Adobe, Aol, Pandora, Spotify and many other industry legends. 
This is the third time we've been listed in an EContent Magazine list in the last 12 months. EContent's panel picked Flud as a "Top 100" company in 2011 as well and listed us as a "Top 10 Hot Companies" in the Digital Content Industry for Flud's innovations in mobile and social content distribution. 
We've got a bag full of innovations for 2013 as well and we think you're going to love what we're working on. Thanks for your support Fluders :)
Keep on Fluding!
- Bobby
Nov 18
Flud launches on iPhone 5
Do you have a shiny new iPhone 5? If you do, you're going to want Flud on your phone. We've just launched an iPhone 5 update and it looks great. 
The larger screen shows you more stories at a time in your news feed, larger viewing areas while you read stories, images feel bigger, and everything opens up a lot more. 
Flud is a great way to read news privately with your team at work. We have thousands of companies that have signed up and we are activating more companies every day. If you work at a creative agency or are part of a strategy group at your company, sign your team up to use Flud for free! We'd love your thoughts! If you want to learn more about Flud for teams and businesses, go to www.flud.it
Keep on Fluding :) 
- Bobby G.
@ghoshal
Oct 30
The Difference between Social Technology and Social Media
Big news coming through…Social Technology is NOT Social Media. Although the two terms sound interchangeable, it's important to start noting the differences.


Social Technology is the foundation behind Social Media
Social Media is a small branch of the tree trunk that is Social Technology. They are the platforms that allow for external voices in the digital world; the most famous being Facebook, Twitter, and Tumblr. Social Technology however is the foundation behind Social Media - it is the framework versus the message. It is what allows us to navigate, analyze, collaborate, and create actionable data together. The rise in the importance of Social Technology can be seen with programs like Yammer, Chatter, and soon to be Flud, because they target the initial intelligence of a company before the effect of its actions.


Social Media is not Enterprise Focused
There is no doubt that Social Media has helped businesses by giving them a voice and allowing them to create personal connections with followers. But because Social Media was created to give the masses a digital voice and empower the individual, companies ultimately do not reap the same benefits. Social Media tends to be ideal for micro-blogging tools that push small snippets of information, but for an Enterprise, these tools can be extremely limiting due to privacy concerns, file sharing, and collaborative restrictions. On the other hand, Social Technology is when an application can mix and match the right tools needed to address Enterprise-specific needs and wants. It is built with the Enterprise in mind, and often focuses on the science of driving network effects inside a company rather than out.

Social Media is for the Ego
Not to get deep into psychology or anything, but people use Social Media because they like to be noticed by others. Whether it being the individual on Instagram, the blogger on Wordpress, or the company with a Facbook page, it's the likes, the RTs, the sharing that stroke the ego and allow us to create ourselves into the brands we want to be. Social Media is about the recognition, and Social Technology is the team that helped to built its pedestal.
Oct 29
Hurricane Sandy Resource Guide
We've put together some of the best emergency resources here on our blog. We'll be adding new articles here that pertain to keeping people safe and out of harm's way.
Important Resources for those in Hurricane Sandy's path
Using Technology during Emergencies

Do you know of an article or resource online that belongs on this list? Tweet us, Facebook us, or email us at pr@theflud.com so we can review and add it.
Oct 25
Flud company dinner…can you say #stuffed? #fludlife
Oct 24
We're Hiring: Senior iOS Developer
Are you a developer in San Diego or New York City? Do you know one? Flud is looking to hire a Sr. iOS developer. Email bobby@flud.it for more info. Happy Fluding.
Oct 23
Recognizing your Employees on Social Media
One of top motivators at work for individuals is knowing that your company appreciates you. Employees want to feel valued at their positions and know that what they do has a direct impact to their environment. Most managers do not realize the power that employee recognition could have on their workspace, such as building company morale and promoting higher productivity. Even further, many fail to understand that they have such easy, low-cost, & high-yield methods to do it with: Social Media.

Social Media is a vastly underutilized tool that employers can use to appreciate their workers. Not only does it show fans of the company how much respect is given towards employees and how company culture promotes recognition, it also boosts the ego and pride of the employee to show their family and friends just how valued and meaningful their work is. Getting your staff to feel good about what they do with a recognition program motivates them to continue working hard because they know that co-workers are watching and caring. It also exposes their name in their department and on the internet as someone who is prized and respected in their specific line of work. According to Workforce Moodtracker 2011, appreciation and recognition are consistently listed as 1 of the top 5 desires of employees across the globe and that 50% of them would switch jobs for more recognition.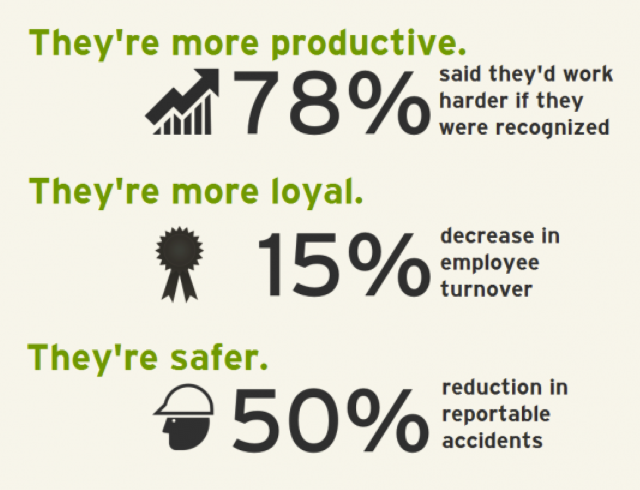 Image screenshot from "A Little Thanks goes a Long Way" Infographic.

Based on the famous Maslow's Hierarchy, the 2nd highest level of human need is the need for Esteem which occurs when humans feel honored and looked up to. If your company can stimulate these basic needs, your employees can reach the stage of Self Actualization and challenge themselves to go beyond job expectations, think outside the box, take on bigger opportunities and become key and valuable team players.



But remember, not everyone likes to be recognized so publicly - find out what type of recognition program your employees feel best about. Some individuals enjoy being singled out in person during meetings, some appreciate the private bonus, and some relish in retweeting the company status that praised their work. Once you tap into their preferences, start spreading the love.

Oct 18
Investing in Employee Education
One of the best things you can do for your company is to invest in employee education. This doesn't mean hiring an entire workforce of MIT & Harvard graduates - it means taking the time to properly train employees in their field of work and encourage consistent and continued education. Whether it's classes to stay up with modern technology, tuition reimbursement, or certification tests, the power of an educated workforce reaps benefits in great ways.

For Your Company
Educated employees means that better decisions are being made for your company because individuals have cultivated their skills in analyzing and acting upon different sets of information. They have learned modern techniques and methods to solve problems and handle projects in more effective ways. Because their education gives them confidence in their ability, these employees tend to be more motivated at their job which reflects in the quality of output in your company. "In a study conducted by Spherion Atlantic Enterprises LLC., a staffing and employment-services firm, 61 percent of respondents who received training or mentoring said they were very likely to remain with their current employer for the next five years or more. Such is the power of empowering employees with education benefits." So, investing in employee education ends up keeping them around for a longer period of time. Low turn-over impacts company morale and saves you a lot of HR headaches of finding replacements over time.

For Your Clients
Your customers will also appreciate working with employees that are exposed to higher education. Highly educated individuals tend to learn how to respect and handle different cultures, languages, and ways of business and use their knowledge to enhance client relations. Their ability to react to uncommon requests or even regional accents in a professional matter will set you apart from your competition. Also, an educated employee would be able to be the first line of defense in helping to resolve customer issues versus bouncing clients between other workers and supervisors until an answer is found. Clients will appreciate that they can speak to one person that knows what they are doing and knows a way to help.
According to Max Mesmer, chairman and CEO of Robert Half International, "Employees aren't the only beneficiaries of continuing education. Companies benefit from developing a workforce that is equipped to meet evolving business needs."
So… are you helping your employees learn?

What are @ghoshal and @adamstorr working on?? Best answer wins a @fludapp Tshirt! Don't forget to follow us too :) Contest ends noon, 10/19.
Oct 17
How to connect twitter to the new Flud for iOS
Fluders, here's how to connect your twitter account so you can tweet in the new Flud. Apple's guidelines stipulate:
Go to your device's main settings (iPhone or iPad)
Go to "Twitter" if you don't have the twitter app, download it from the app store. 
Log into your twitter account in your device's settings.
Your device will confirm your twitter account when you log in. 
Then open up Flud and start sharing your favorite stories on twitter. Let us know if we can help you with this in any way.
Thanks so much and keep on Fluding!